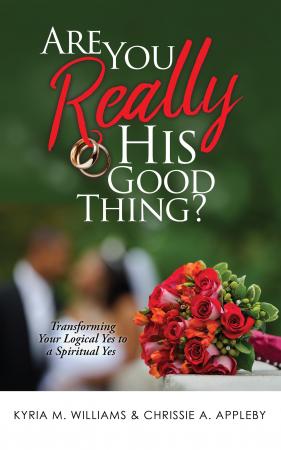 Are You Really His Good Thing Book
Are You Really His Good Thing Is Not Your Typical "Wives" Book. The mission of Are You Really His Good Thing is to challenge and shift the conversation and perception around being a wife and the reality of it. So, if you're ready to view this reality from a lens that will transform you into the wife that God has called you to be, then take a dive into this book.
I was able to connect with the authors because every chapter was relatable. I appreciated the vulnerability. I can say that I have a new prospected of myself and marriage.
Amazon Customer – February 1, 2021
I love how she included scriptures for every point that she made. I recommend this book it's definitely worth the purchase.
Mr. & Mrs. Marshall – January 11, 2021
I Wish I Had Read This Book Years Ago
This book gave me insight on how I can be a better woman in God's eyes. I will say I would probably still be married if I had read this book 3 years ago. But it's prepared me for my next time I do get married, all in God timing.
This book is awesome! Even though I haven't made it down the aisle in the natural, I am in preparation training to be the wife God purposes for me to be. This book helped me to really retrain my thought process so I don't go into my marriage with the wrong thoughts. No matter what stage you are in, this book is such an amazing treat and even sites Biblical references so you can study to show thyself approved! Loved it! Five Stars!
Nedra J – February 16, 2019
I read this book in one setting! It's definitely a word for singles, engaged, married or wanting to be married. The Godly teachings are relatable to today's time and really caused me to look at MYSELF! This is a forever reference and I have been telling all of the ladies in my life to get a copy. Absolutely a must read to assist in the goal of preserving marriages.
Tabatha Chanta – February 14, 2019