Step Away * Reconnect * Revive Your Marriage
A GRAND COUPLES' GET-A-WAY
4 DAYS | 3 NIGHTS | FEBRUARY 10TH -13TH 2022 | KISSIMMEE, FLORIDA.
Convenient payment plans available.
Exclusive to 8 married couples
Romance * Reconnect * Revive Your Marriage
A Grand Couples Get-A-Way
4 DAYS | 3 NIGHTS | FEBRUARY 10TH -13TH 2023 | KISSIMMEE, FLORIDA
Convenient payment plans available
Exclusive to 8 married couples
2nd Annual Valentine Get-a-Way
Are you in need of a place where you can truly unplug?

Let us take you away to a splendid and picturesque home in sunny Florida, equipped with all the luxury and amenities to take you away from the pressures and distractions of everyday life. With every meal specially prepared by a professional chef and activities that is destined to satisfy you, it's the ideal environment so you and your spouse have the freedom to release stress and take time to enjoy one another's company.

We are intentional about this get-a-way being intimate and life-changing for each couple, therefore inviting only 8 couples to attend.

All marriages go through various seasons of life – some smooth, some bumpy, and some in-between. Married on a Mission provides married couples an opportunity to slip away together to get reconnected and enjoy one another. Whether you're feeling disconnected or entirely present, this retreat brings you and your spouse a transformed sense of intimacy. Take part in and be revived from the second you arrive at the regal retreat home in Kissimmee, FL and enjoy intentional time to concentrate on each other.

This is more than just time away – it's an opportunity for a recess break and to take your marriage to the next level along with meeting other like-minded couples who are purposeful about executing wholeness, unity, and reviving their marriage.

Together you'll have experiences that stretch and strengthen your marriage, as you reaffirm your devotion to Christ and each other. By combing Christ-centered teachings with memorable experiences, we want you to embrace the journey of marriage.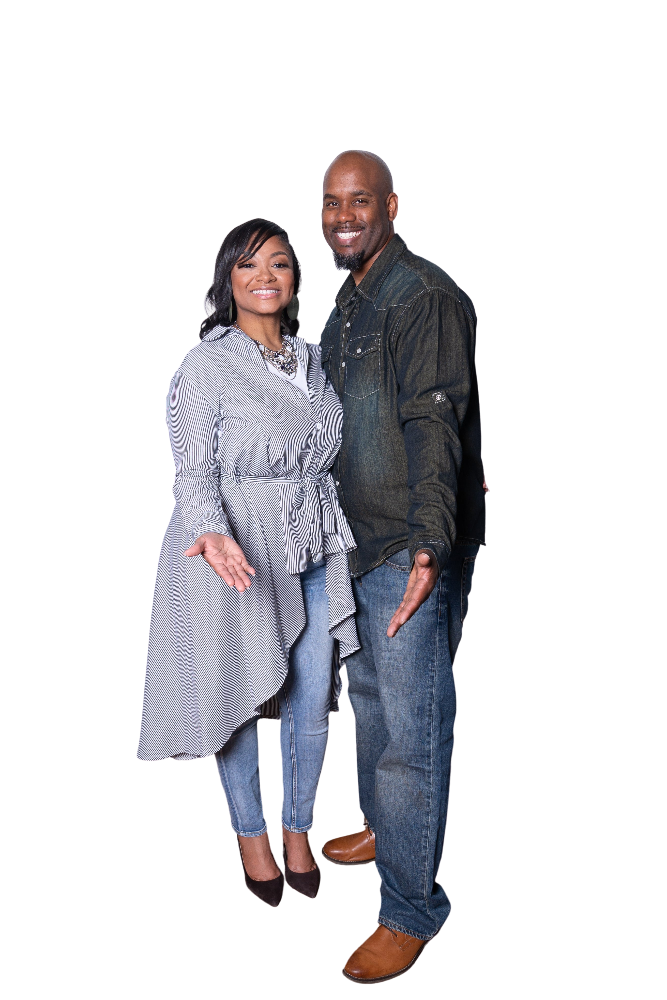 A Slight Taste of What to Expect….
DAY 1 – Day 1: Welcome to Kissimmee! Friday, February 10th, 2023
3 PM – Arrive to your Grandiose Stay for the Vacay!
Check in to your luxurious suite, and de-stress a little after your travel. The king suite comes with several fancy features. Dip your feet in the pool, take a couple of selfies against the beautiful scenery, or even take a nap if you want, but first, relish on the mouthwatering Hors d'oeuvres prepared specially for you.
7:30 PM – Meet/Greet/Eat
Now that you are refreshed, it is time to mingle. Get acclimatized with like-minded couples, and unwind with tales of your lives over a specially prepared dinner. You also meet your hosts, Trey and Kyria Williams, the mastermind and creative forces behind the Valentine get-a-way.
9:00 PM – Put your game faces on!
What is a romantic get-a-way without fun games? Let everything go and let your inner child run wild with our series of fun couples' games designed to bring you closer to your spouse. Make memories that you will carry with you for a lifetime to come.
Day 2: Rise and Shine!
Saturday, February 11th, 2023
8:30 AM – Morning Prayer and Breakfast
Kickstart the day with the most important meal, prayer that is. We will take this time and celebrate fellowship as we join together in prayer and assertion of God's grace. This moment will give you the time and mindset to feel God's unconditional love with greater intensity. After feeding your spirit, refresh your belly with a delightful breakfast and align your mind and body for what the rest of the day is about to bring.
9:30 – 12:00 –Togetherness!
Synergy in marriage is key; if the Lord can lead you to it, he will lead you through it. Let's get to the down and dirty truth about marriage. Here, you will lay your soul bare, exchange life-affirming lessons in marriage, love, and life, and learn to connect on a supernatural level.
12 – 1 – Lunch is Served
Time to enjoy a delectable lunch made with a whole lot of love. Trust us, after the session above you will have certainly worked up an appetite.
1 – 6 – Recess
That's right, "recess" except this is the adult version – UNMONITORED During this time, you are free to enjoy some alone time with just the two of you, engage with other couples or do whatever you choose. Almost everyone looks forward to recess – even if you don't have access to monkey bars….lol
7:00 PM: Royal Renewal & Reception
It's time to take things up a notch and get fancy with a black-tie royal renewal! So, chin up, put your fanciest clothes on, and be prepared to unleash your inner emperor/empress. Dinner and dancing will follow. But 1st, all that exquisiteness deserves to be framed. That's why we have arranged a professional photoshoot to kick off the royal event.
Day 3: Eventful Day
Sunday, February 12th, 2023
8:30 AM – Prayer and Breakfast
What's the most important meal of the day? That's right, prayer that is! This day will usher in several activities but the first thing that we do is thank the Lord and how far he has guided us and been with us through this journey of marriage. Then, we start the day by fueling our bodies with a scrumptious breakfast.
9:30 – 12:00 – She Shed and Man Cave
Absence makes the heart grow fonder, as they say. This event is designed with a singular focus to help you regroup, reconnect with others of the same sex, and allow yourself total vulnerability. The wives are escorted to the She Shed while the husbands are led to the Man Cave. We believe this will help open your mind and heart to all the facets that marriage can bring.
12:00 – 2:30 – Chill, Grill, & Splash
Nothing brings people closer than music, food, and conversation. We hope you are ready for a classic backyard barbeque and swim party. Turn up the music, take a dip in the pool and enjoy piping hot food straight off the grill. Get the conversations going with your new friends, allowing yourself to let go, enjoy life and soak in the day's blessings.
2:30 – 6:00 – Recess
Yep! It's been a long day and the day is not over. There's more to come, but during this time, "do you" whatever you want to do.
6:30 PM – Superbowl Party
You didn't think we forgot about Superbowl Sunday, did you? Wear your specially designed team jersey and get ready for the Superbowl party. Yep, each couple will receive their own jersey with their team colors. They say that sometimes the simplest things in life make the biggest mosaics of memories. What better way to make a memory than with sportsmanship, appetizers, and friends – Hollywood Style?
10:00 PM – Wind Down
After all the fun and activities on this day, we think nothing would be as comforting to close out the weekend by slipping into your comfiest pair of pajamas and unwinding for the night. Therefore, we have arranged a pajama party – pillow talk with all of the couples to end the get-a-way on a more relaxing note.
Day 4: Depart with a Mind Full of Memories
Monday, February 13th, 2023.
10 AM – Time to Bid Adieu!
As the weekend concludes, take a moment to breathe in the air, and thank the Lord for the wonderful gift of marriage. Bid farewell to the amazing friends you made. The entire point of this getaway was for you to reconnect with God's teachings, make valuable connections with like-minded couples and travel back to why you fell in love. We hope you cherish the memories made, gain a brighter perspective on life and love that will positively impact your future and that the days ahead will be filled with forgiveness and God's grace.
WHAT'S INCLUDED AND WHAT'S NOT
Please understand that we start making arrangements the moment you book a spot. Hence, we won't be able to process any refund requests. However, purchasing individual travel insurance is always an option.
Please fly into Orlando, FL (MCO)
Investment: $2,395 per couple.
Pay just $1,450 per couple on or before December 4th to reserve your spot.
Remaining balance will be broken up into installments, divided equally with the final installment due on January 13th.
Remember! There's Only Room for 8 Couples! Grab Your Spot Today!